COURSE: Advanced Open Water Scuba Course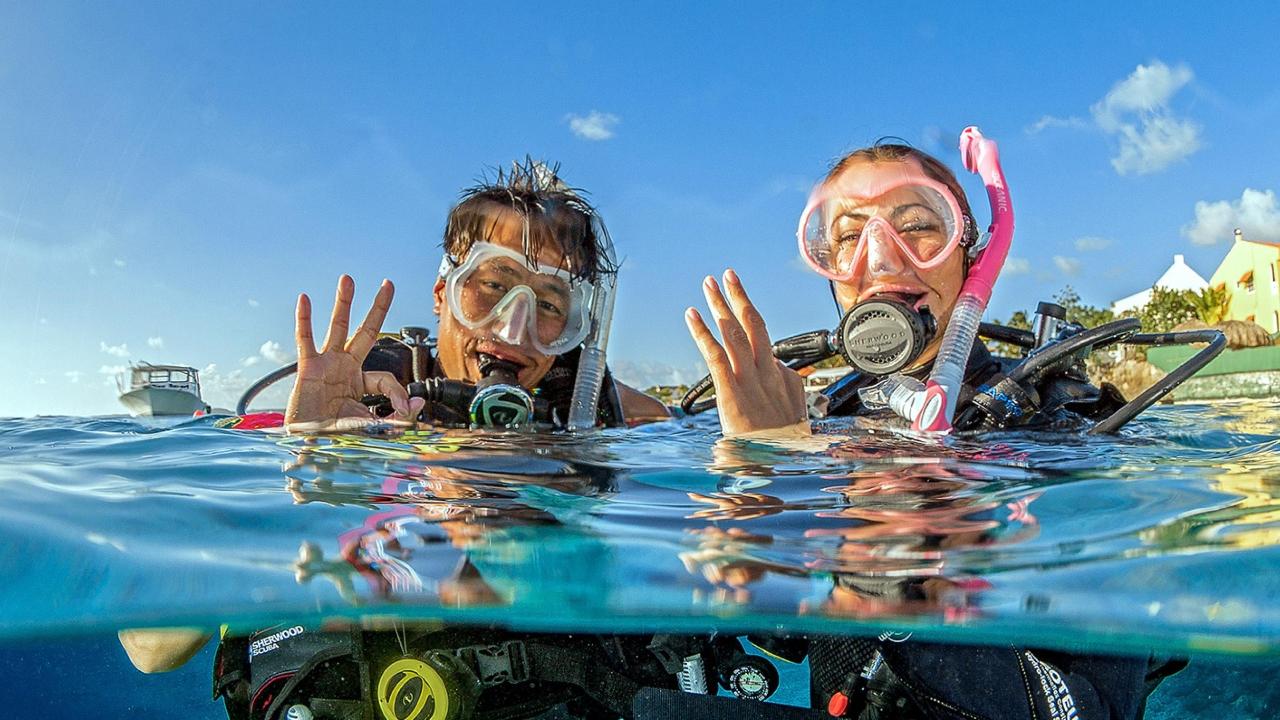 Duration: 3 Days (approx.)
Location: Hervey Bay, QLD
Our PADI Advanced Open Water Scuba Diver course will expand on your Open Water Scuba Course skills and knowledge.
Our highly qualified PADI certified instructors are passionate divers and pride themselves on providing high quality training to those looking to take their diving to the next level.

Important skills learnt during this course will provide you with the skills and knowledge necessary to become a truly independent diver... you'll begin to think like a diver.
This multi-day course involves a theory component, and 5 open water dives.

Dives which are compulsory in this course include:
Advanced deep dive to a depth near 30m
Advanced navigation dive using a compass and the surroundings
Then you select from a wide range of Elective Adventure Dive choices for the remaining three dives.
Options include:
Advanced Peak Performance Buoyancy
Advanced U/W Digital Imaging
Advanced Drift Diving
Advanced Underwater Naturalist
Advanced Search and Recovery
Advanced Fish ID
Advanced Shark Awareness
Advanced Night Dive*
Advanced Wreck Dive*
Itinerary
Step 1: Theory
- Complete theory component of the PADI Advanced Open Water course is all self-study of the relevant chapter in the "Adventures in Diving" manual to the Advanced Adventure Dive you will do! Real Easy! (the manual is available in either a book or Elearning).

Step 2 : Practical
The in water, practical part of the courses are run regularly on weekends and weekdays. We can be flexible with course times but most people choose a part-time format fitting in with life. However, full-time over 2 consecutive days and evening classes can also be arranged - please contact us for info.

Prerequisites

The ability to swim 200 metres or snorkel 400 metres (with mask, snorkel and fins) and stay afloat for 10 minutes is required.
You need to be healthy and medically fit. Medical considerations prior to starting a PADI course: you are required to complete a Divers Medical questionnaire. If you have any medical conditions that are listed in the medical statement, you are required to complete an approved Scuba Diving Medical Certificate (AS 4005.1) with a medical physician. These medicals are available from a wide number of selected practitioners. We can assist with locating a suitable doctor, please contact us for info.
Rates
Advanced Open Water Course: $600 per person
Inclusions
All instruction
Scuba equipment provided
Great Sandy Marine Park fees
5 x open water dives in the Great Sandy Marine Park
PADI Advanced Open Water Diver Certificate
What to bring
Swim wear & towel
Sunglasses, hat and sunscreen
Water bottle
Don't forget your camera!